Dark & Lovely / Softsheen

The world's most well known product range! We started the wave in NZ since 1995 and we are the only recognised and trained distributor for Softsheen and Dark & Lovely straightening Products.
The Dark & Lovely Relaxer System designed to leave your hair silky and straight for up to 3 months. Dark & Lovely No-Lye Conditioning Relaxer Systems are formulated for better straightening, softness, shine are healthier looking hair. Available in two strengths, Regular and Super. Dark & Lovely also has a range of leave in conditioners, moisturisers and treatments for natural and relaxed hair.
No other children's Hair Care Products offer so much comfort! Includes a relaxer for sensitive scalps all Mothers can use in total confidence. All products contain Aloe Vera and Panthenol to promote tangle-free soft hair resulting in softer, silkier and more manageable hair.
In addition to Dark and Lovely, Softsheen also manufactures Optimum Care, the anti-breakage range. For Men, Softsheen created the razorless shaving system Dark and Natural.
Show:
Sort By:
New Advanced formular. Ready mixed, no Lye relaxer. Use as Dark & Lovely Relaxer kit. Reduces ri..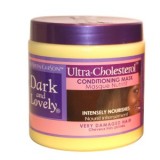 An intensive conditioning treatment that helps prevent split ends. It gently detangles dry, da..
Dark & Lovely Naturally Tea Tree Oil Twist & Loc Butter is specially formulated with tea tre..
• Enriched with blend of 8 nourishing oils such as apricot, coconut and wheat germ oil • Softens, p..
Perfect for wavy or fine curly hair. Moisturises and detangles, leaving hair soft and shiny. ..
Dark and Lovely® Healthy-Gloss 5™Shea Moisture Relaxer. Available at Amaka or from selected ph..
​Dark and Lovely Kids Beautiful Beginnings' Perfect Performance Technology™ gives the desired straig..
The 2-in-1 Shampoo + Conditioner is perfection made easy; it cleans, detangles and conditions for a ..
This detangler contains a blend of coconut oil and milk thistle to leave the hair soft, shiny and he..
Restore Plus Neutralising Shampoo is for use with pre-mixed relaxers in jars ( Resore and Preci..