Shampoo
The foundation of healthy hair is clean hair. We have a selection of shampoos designed specifically to moisturise and condition as they clean. Perfect for African / Pasifika / coarse / frizzy hair types.
Show:
Sort By:
The 2-in-1 Shampoo + Conditioner is perfection made easy; it cleans, detangles and conditions for a ..
Qty: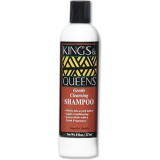 A rich lather with a soft gentle fragrance. Leaves your hair clean, fresh and ready for stylin..
Qty:
Restore Plus Neutralising Shampoo is for use with pre-mixed relaxers in jars ( Resore and Preci..
Qty:
Showing 1 to 3 of 3 (1 Pages)