Hair Care
At Amaka we specialise in products for dry, frizzy and curly hair. As the Dark & Lovely experts we carry a wide range of Dark & Lovely products for relaxed and natural hair. We also have a number of your favourite brands such as Kings & Queens, Organic Root Stimulator Olive and Africa's Best to name a few. In addition you'll find our range of hair extensions for braiding and weaves here.
Shop by Category
Show:
Sort By:
Optimum Care Anti-Breakage Therapy provides proven breakage reduction for stronger hair after just 1..
Qty:
Restore Plus Neutralising Shampoo is for use with pre-mixed relaxers in jars ( Resore and Preci..
Qty:
Enriched with Natural Oils to help moisturize dry hair. Restores softness and shine whilst providing..
Qty:
Now in an easy spray bottle! Restore Plus Oil Moisturiser Lotion from Dark & Lovely is enriched ..
Qty:
Ready mixed, no Lye relaxer. Provides excellent relaxing results. For best results use in conjunctio..
Qty: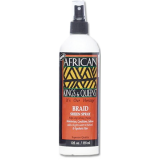 Immediately helps stop Itching and Frizzes while leaving a light glossy sheen. Excellent for all tex..
Qty:
Shea butter is obtained from the seeds of the Karite tree (Butyrospermum parkii) common in several A..
Qty:
Infused with Olive Oil, this moisturising spray helps to nourish and revitalise dry, fragile hair. I..
Qty:
Conditioning relaxer from Soft and Beautiful that is even more gentle on the scalp. Contains al..
Qty:
Black tinting bowl. 15.5cm diameter. Side and bottom measurements marked. ..
Qty: