Dry or damaged hair
These products will help to rescue or resucitate dry, damaged hair.
Show:
Sort By:
Organics Hair Mayonnaise is a deep conditioning therapy for weak, damaged hair. Organic conditioning..
Qty:
Argan oil, liquid gold is widely used by Moroccan women for skin, hair and nail care and has been so..
Qty:
An intensive conditioning treatment that helps prevent split ends. It gently detangles dry, da..
Qty: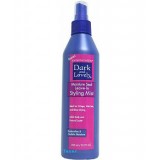 Enriched with Moisture-seal technology this leave-in conditioner moisturises each strand. Grea..
Qty:
• Enriched with blend of 8 nourishing oils such as apricot, coconut and wheat germ oil • Softens, p..
Qty:
Highest quality ingredients makes this conditioner great for natural and chemically treated hair - r..
Qty:
A rich lather with a soft gentle fragrance. Leaves your hair clean, fresh and ready for stylin..
Qty:
Infused with Olive Oil, this moisturising spray helps to nourish and revitalise dry, fragile hair. I..
Qty:
Showing 1 to 8 of 8 (1 Pages)