Blue Magic
For the original anti-breakage formula, look no further than Blue Magic. Hair dresses, creams and gels designed to soothe, moisturise and repair curly / frizzy / ethnic hair textures.
Show:
Sort By: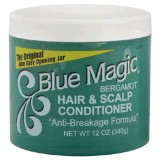 Prevents dry itchy scalp which helps control dandruff. Blue Magic Bergamot is an effective condition..
This moisture-resistant formula from Blue Magic will give a special lustre to your hair & help p..
Blue Magic with Wheat Germ and Coconut Oil restores and softness and shine to dull hair. Preve..
Showing 1 to 3 of 3 (1 Pages)